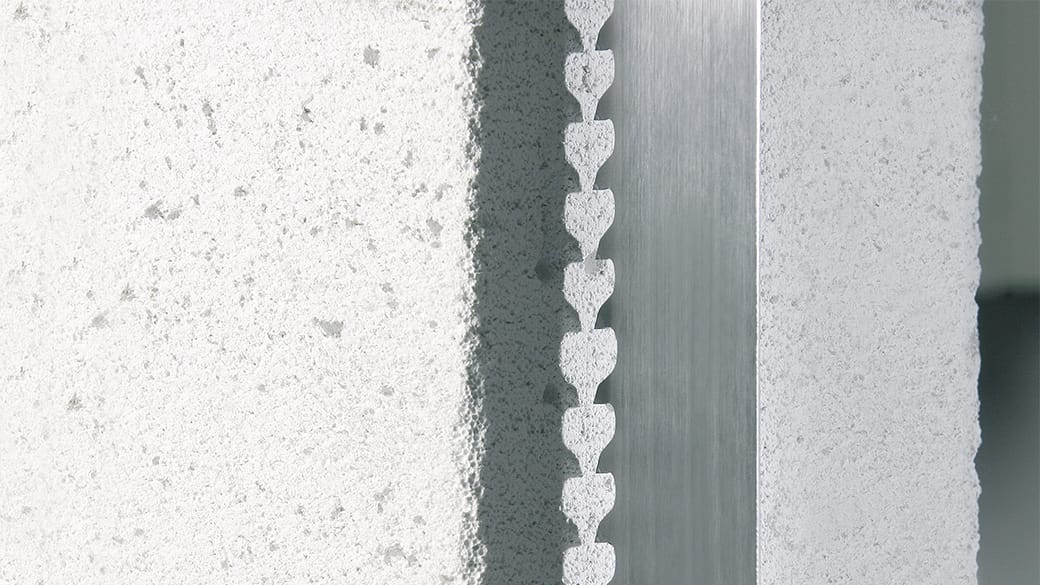 TCT®
The band saw blade for mineral materials
Product Level S

Standard- or Hooktooth

Solid materials

Band width 13 x 0.8 - 41 x 1.3mm
Add to watchlist
Added to watchlist

TCT® — The band saw blade for mineral materials
In some industry segments, such as construction, difficult materials or material combinations are often present for sawing. The TCT® meets the special requirements of the abrasive cutting material with very wear-resistant carbide saw teeth. In addition, the carbide band saw blade enables radius and contour cuts in certain dimensions, which are required for round designs.
TCT® was specially developed for cutting solid materials from mineral building materials. Normally, the materials have a rectangular cross-section, which can be perfectly processed with the band saw blade. The precisely cut construction elements with clean, straight cut edges, or desired contour cuts thus contribute to high productivity at the construction site.
Application
Aerated concrete, graphite
Insulation materials such as glass and rock wool
Glass and carbon fibre reinforced plastic

Advantages
Extremely resistant to abrasive wear
high cutting performance
Smaller cutting gap
Usable without cooling lubricant

Features
Carbide cutting edges with very high wear resistance
Precisely set tooth geometry
Constant tooth pitch for solid materials
Dimensions
Tooth pitch in ZpZ
Width x thickness
mm
Inch
13 x 0.80
1/2 x 0.032
20 x 0.80
3/4 x 0.032
27 x 0.90
1-1/16 x 0.035
34 x 1.10
1-3/8 x 0.042
41 x 1.30
1-5/8 x 0.050
4
3
2
1.25
S
S
K
S
K, S
K, S
K, S
K
K
K
K

80-120

3.1-4.7

120-200

4.7-7.9

200-400

7.9-15.7

300-800

11.8-31.5
S = Standard tooth
K = Hook tooth
Hard-burnt coal, graphite
Mineral building materials
Any more questions?
The experts of our Technical Competence Center are happy to help you answer further technical questions connected to band selection and use.