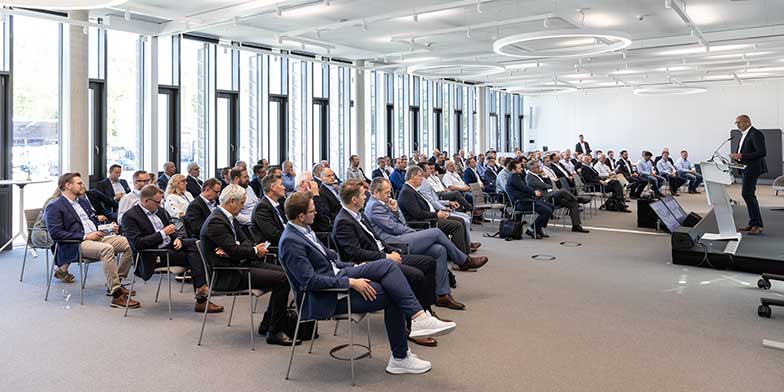 WIforum 2022: Live event for the cutting industry in Spangenberg
In a volatile market environment, only companies with the courage to embrace change, with close partnerships and customer-focused solutions remain successful – something that WIKUS-Sägenfabrik Wilhelm H. Kullmann GmbH & Co. KG impressively demonstrated at WIforum 2022. The first industry exchange of this kind at the WIKUS headquarters took place live in Spangenberg on June 23rd.
Spangenberg, July 4th, 2022: —About 70 customers from the cutting industry came to Spangenberg and discussed the current situation during the WIforum 2022 at WIKUS. They learned how crises can facilitate sustainable growth and how the symbiosis of products, partnership, service, and a forward-looking spirit can help them press ahead with strengthened optimism. These are important topics, because one in five companies in the metalworking industry is in economic jeopardy as a result of the tense global situation – according to a survey by Gesamtmetall1. The explosion in energy and raw material prices is causing them great problems. The consequences are lower profits and a loss of competitiveness. In addition, although the changing times require investments, these are often cut back. However, they are important in pushing forward with the necessary changes, as are good partnerships and a positive mindset towards the future.
Turning the crisis into an opportunity: A look into the future
The importance of an optimistic view of the future was explained by trend researcher and futurologist Matthias Horx right at the beginning of the industry meeting in his keynote speech, and he called for a different approach to the new reality: Global crises are causing change that will not only have negative effects. Globalization is currently faltering, but at the same time the ecological turnaround and the re-localization of supply chains are accelerating. These factors present opportunities, so change should be seen not just as a constraint but as a positive development, Horx said in his presentation. Real forces of change are not to be released by threats, but by a common visionary mindset. This positive "future spirit" ultimately helps to sharpen the focus on one's own transformation.
Industry talk: Success with a customer focus and solidarity!
Right now, the will to make positive changes is particularly important, because according to the AHK World Business Outlook2, almost all German companies are being forced to make short-term adjustments to their strategic decisions and supplier portfolios. "Our credo at WIKUS is: plan ahead, produce efficiently and develop in a targeted manner. At the same time, we want to be agile and able to react quickly to unforeseen events," said Dr. tech. Jörg H. Kullmann, Managing Partner/Chairman of the Management Board, Technology and Manufacturing Division, as part of the industry talk – moderated by Markus Philipp, editor and presenter at ARD and hr. He also emphasized the positive focus of Europe's largest saw manufacturer with regard to customer benefits: "We support our customers with high-quality sawing solutions to effectively and efficiently cut the diverse range of materials. We're driven by the question of which materials will play a role in the future and how we can machine them with WIKUS products. Sawing must be even faster, more reliable and possible with even more durable tools in order to remain fit for the future. We are constantly evolving as a driver of innovation - shoulder-to-shoulder between the will to invest and opportunities for growth, with a focus on sustainability and grandfathering."

During the talk, Dr. Kullmann spoke with Vanessa Weber, CEO of Werkzeug Weber GmbH & Co. KG, Sebastian Wichert, Head of Metal & Metal Processing, Horváth AG, and Dr. Rainer Waldschmidt, Managing Director of Hessen Trade & Invest GmbH. Together they came to the conclusion that, in addition to a focus on service and customers, the scope of the current crises can only be mastered by acting in partnership and finding innovative solutions. Dr. Waldschmidt added: "The aim is to ensure optimal conditions for small and medium-sized companies in particular in Hessen as a business and technology location in the long term. In view of the increasingly complex global challenges, this is a feat that we can only accomplish together as a network and for which meetings like WIforum 2022 are important."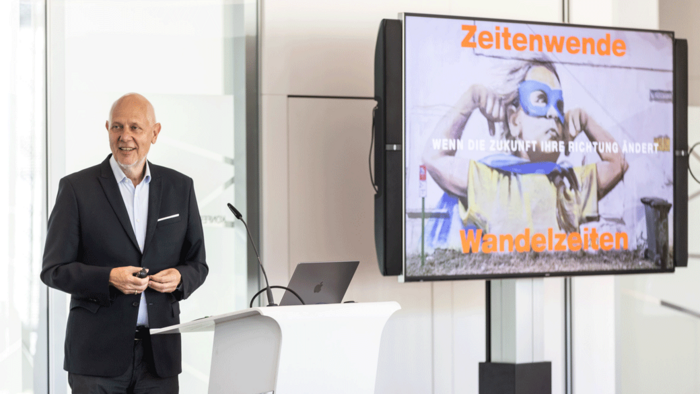 Practical workshop knowledge on volatile markets
The importance of partnership, strategic cooperation, and constant exchange of knowledge for agility and resilience in the global market became clear in the workshop with the three WIKUS managing directors. In practical presentations based on experience, they explained, among other things, how to navigate between price increases and cost pressures. In hands-on, experience-based keynote speeches, they explained, among other things, how to navigate between price increases and cost pressures. The idea is that those who accumulate specialized knowledge early on and secure supply chains through diversification have an advantage.
"At WIKUS, we are convinced that we can only solve the challenges of high price volatility by working in partnership. That's why we exchange ideas closely with customers and suppliers, and WIforum 2022 offers an ideal platform to do so," said Jörg Utech, Managing Director of the Finance and Resources Division at WIKUS, adding: "As a manufacturer, we have set a lot of things in motion from which we are currently benefiting: Thanks to improved organization, we can react faster to strong fluctuations in demand. To this end, we are continuously investing in our production site in Spangenberg and optimizing our processes, the best example being inline manufacturing for saw blade production."
How manufacturing can be adapted to meet demand and the role played by partnerships between customers and toolmakers in positioning one's company for the future were also topics discussed during the workshop.
A look behind the curtain: Innovations and efficient saw solutions
A look behind the curtain – as part of a guided tour – was a must at the industry get-together. Based on the motto "The highest cutting rates and productivity in sawing", participants gained insights into the innovative world of manufacturing and the WIKUS sawing center and were able to take home a lot of practical know-how as a result. Several spotlights enhanced participants' knowledge and offered insights into perhaps still unknown areas: For example, product developer Mirco Lange presented the precision circular saw blades MIRUS® and KREOS® developed by WIKUS for thin-walled pipes and profiles. Other topics included high-performance sawing and the continuous development and improvement of WIKUS products through research and development into award-winning sawing solutions. The evening ended in keeping with the motto "Exchange" with a joint dinner and networking.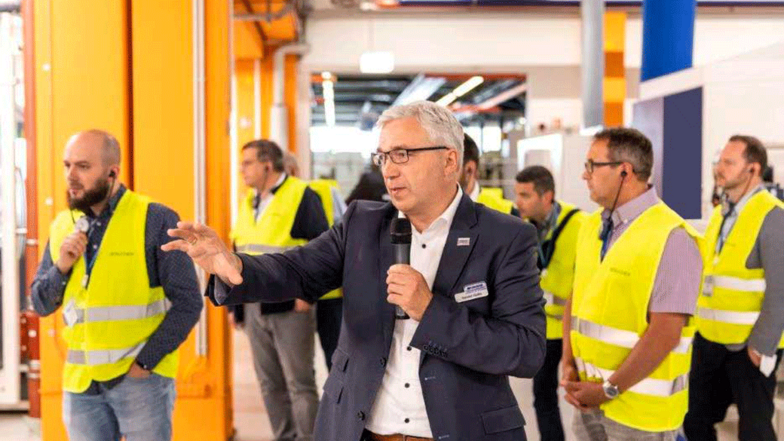 Unique live event provides positive inspiration
Michael Möller, Managing Director of the Business Group and Sales Division, summed up the day as follows: "Major upheavals require the courage to change. The current world situation is putting all manufacturing companies under high pressure to adapt. WIKUS reacted early and set the course for even more proximity to customers with a growth strategy and new sales structure. Many other companies – as we have heard today – have done the same. The discussions with our customers at the WIforum 2022 confirmed that we are on the road to success together. We are pleased that we, as partners, were able to create a platform for the exchange of knowledge and for networking with this unique live event, in addition to our innovative technologies and services oriented towards customer benefits. The response was so good that we want to continue providing a lot of positive inspiration with industry events like this in the future."
Photo credits: Heiko Meyer

1 Gesamtmetall industry survey, May 2022: https://www.gesamtmetall.de/sites/default/files/downloads/220618_konjunkturumfrage.pdf

2 AHK World Business Outlook:https://www.dihk.de/de/themen-und-positionen/internationales/auslandsgeschaefte-deutscher-unternehmen-auf-schlingerkurs-71098