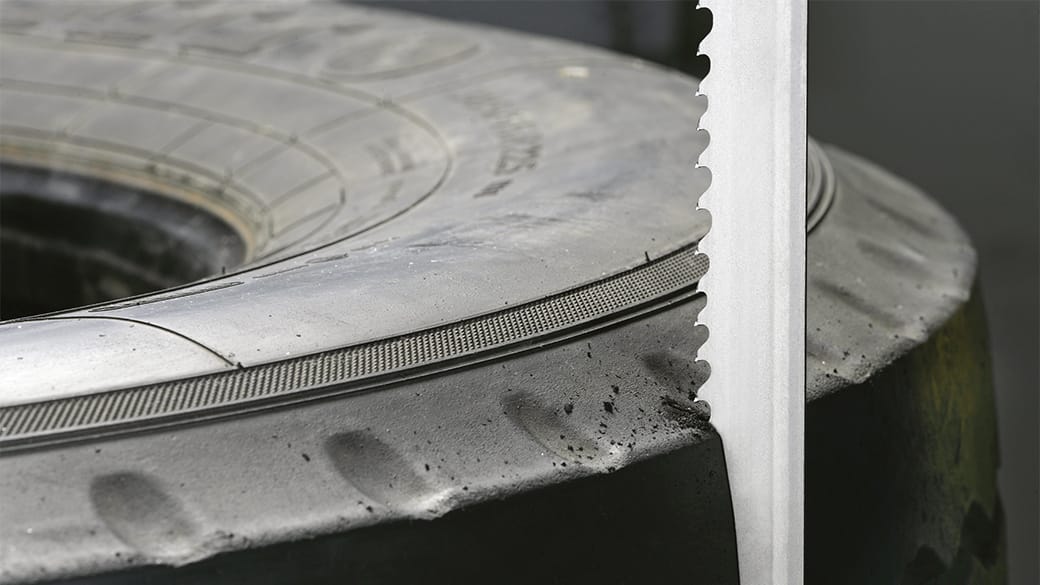 TCTYRE®
The special band saw blade for rubber and metal composites
Product Level S

Trapezoid tooth

Tyres

Band width 27 x 0.9 - 54 x 1.6mm
Add to watchlist
Added to watchlist

TCTYRE® — The special band saw blade for rubber and metal composites
Composites of rubber and metal are mainly used as materials for vehicle tires and sheathed cables. WIKUS has developed the TCTYRE® carbide band saw blade especially for cutting such material combinations.
The TCTYRE® band saw blade provides reliable service in quality controls for the production of rubber composite items from car, truck, tractor, to large machine tires. The clean, straight cutting surfaces of the band saw blade excel in quality controls.

An additional field of application is the shredding and recycling of used tires and discarded cables. The shredding of scrap material is a prerequisite for recovering the metals it contains and positioning the rubber for further recycling.

Application
for quality analysis oftires ofall kinds
For the economical comminution of rubber composite material

Advantages
Very long lifetime and cutting rate even with larger than average tyres
Vibration-resistant cut due to variable tooth pitch
Very clean and good cutting surface for direct quality analysis

Features
Carbide cutting edge with high wear resistance
Optimized cutting edge geometry with variable tooth pitch for significantly reduced cutting force
Dimensions
Tooth pitch in ZpZ
Width x thickness
mm
Inch
27 x 0.90
1-1/16 x 0.035
34 x 1.10
1-3/8 x 0.042
41 x 1.30
1-5/8 x 0.050
54 x 1.30
2-1/8 x 0.050
54 x 1.60
2-1/8 x 0.063
3-4
2-3
T
T
T
T
T
T
T
T

90-150

3.5-5.9

150-270

5.9-10.6
Any more questions?
The experts of our Technical Competence Center are happy to help you answer further technical questions connected to band selection and use.