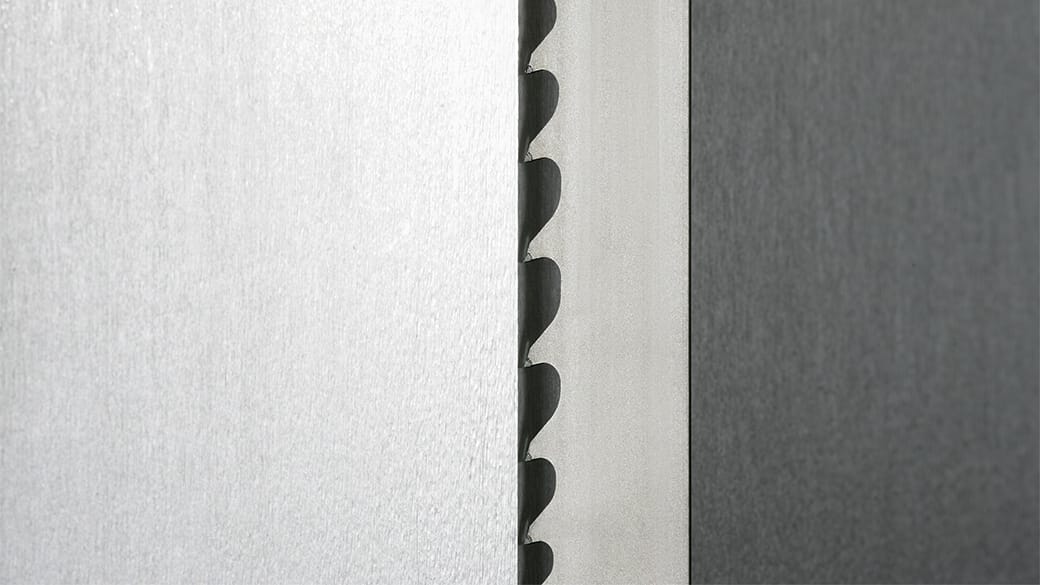 ECODUR®
The low-cost band saw blade for non-ferrous foundries
Product level 2

Trapezoid tooth

Solid materials

Band width 13 x 0.8 - 54 x 1.6mm

Band width 1/2 x 0.032 - 2-1/8 x 0.063 Inch
Add to watchlist
Added to watchlist

ECODUR® — The inexpensive band saw blade for non-ferrous foundries
Materials made of aluminum, copper and other non-ferrous metals as well as their alloys place excellent standards on machining. The processing of large quantities in foundries requires precise, often automated separation of risers and casting sprues.
In order to be able to economically machine castings in these applications, WIKUS has developed the ECODUR® band saw blade.
The band saw blade is equipped with tooth edges made of specific carbide, perfectly adapted to the requirements of non-ferrous metals and their alloys.
Thanks to the ground trapezoid tooth with positive rake angle, the carbide band saw blade cuts solid materials cleanly and quickly.
The short cutting times result in a noticeable increase in productivity. The high surface quality of the cut surfaces, which requires only minor post-processing, also contributes to this.

Application
Cutting gates and risers on non-ferrous castings
Aluminum and aluminum alloys as solid materials or profiles
Copper and copper alloys as solid materials or profiles
Aluminum round bars, blocks and precision plates

Advantages
very good price-performance-ratio
High productivity due to short cutting times
Carbide cutting edge with high resistance to abrasive wear and thus high blade-life
Good cutting surface for minimal finishing

Features
Tooth edges made of specific carbide against abrasive wear
Polished trapezoid tooth with positive rake angle and thus clean and fast separation of solid materials
Patented chip division for high productivity and blade-life as well as good cutting surface quality
Dimensions
Tooth pitch in ZpZ
Width x thickness
mm
Inch
13 x 0.65
1/2 x 0.025
13 x 0.80
1/2 x 0.032
20 x 0.80
3/4 x 0.035
27 x 0.90
1-1/16 x 0.035
34 x 1.10
1-3/8 x 0.042
41 x 1.30
1-5/8 x 0.050
54 x 1.30
2-1/8 x 0.050
54 x 1.60
2-1/8 x 0.063
67 x 1.60
2-5/8 x 0.063
variable
constant
3-4
2-3
1.4-2
0.85-1.15
3
T
T
T
T
T
T
T
T
T
T
T
T
T
T
T
T
T

80-170

3.1-6.7

150-300

5.9-11.8

250-500

9.8-19.7

700-1400

27.6-55.1

120-200

4.7-7.9
Aluminium / aluminium alloys
Non-ferrous metals
Any more questions?
The experts of our Technical Competence Center are happy to help you answer further technical questions connected to band selection and use.