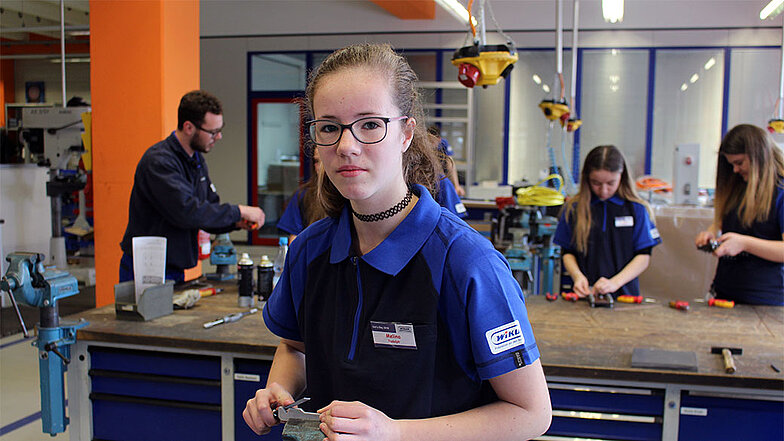 Girls' Day at WIKUS in Spangenberg
11th of May 2019 – How do the gaps actually come in the teeth? Girls' Day at WIKUS in Spangenberg provides schoolgirls with an insight into all aspects of sawing.
This year, 9 girls aged between 11 and 14 were able to gain an insight into the technical (still predominantly male to date) working life at the Spangenberg company.
"One of my main goals was to introduce the girls to the technical apprenticeship occupations in the company and, wherever possible, to let them also work in the company themselves", says Claudia Kaiser, a consultant for corporate communications.
"We have entrusted the girls in our apprenticeship workshop with small tasks which e.g. our mechatronic engineers, industrial and plant managers had to learn at the beginning of their training career", says the organiser. Filing and drilling as well as wire bending exercises were all part of the agenda.
An integral part of the programme was a guided tour through in-line order production and customer order production to show how many steps are necessary to produce a bandsaw. The new non-territorial office concept at WI.com was also on the programme.
"The girls who register for the Girls' Day at WIKUS often show real interest in the practical exercises within the scope of the technical apprenticeships. When we have perhaps be able to just lay one small building block beyond this initial enthusiasm, then it could well be that this will influence the career choice in a few years' time. Then we would be able to evaluate this as a success for us again." concludes Claudia Kaiser.
Press Contact
Claudia Kaiser, Corporate Communication