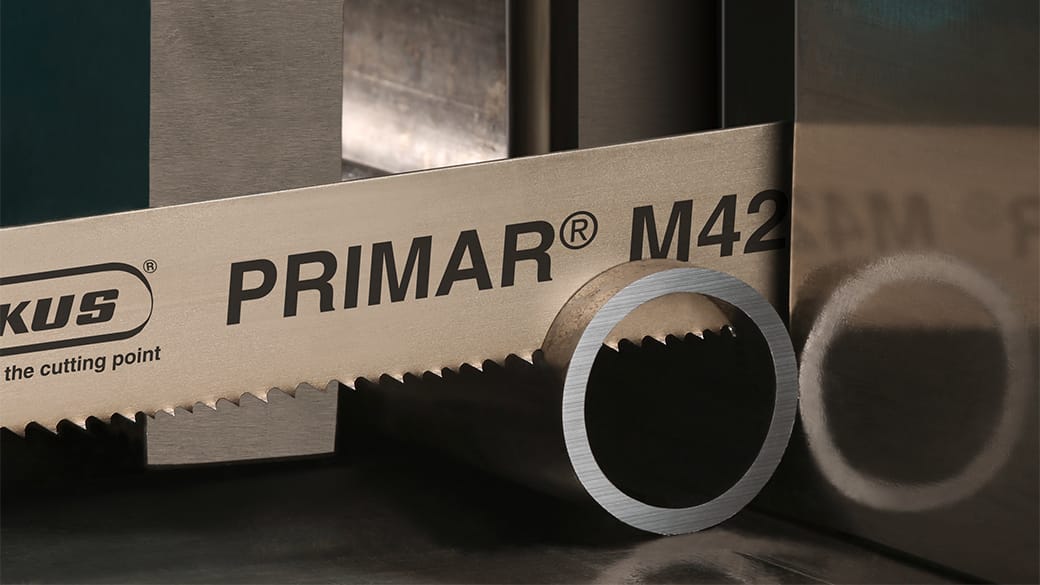 PRIMAR® M42
The versatile option in Level-1 for small and medium-sized workpieces
Product level 1

Standard or hook tooth

Profiles + Solid materials

Band width 6 x 0.65 - 67 x 1.6mm

Band width 1/4 x 0.025 - 2-5/8 x 0.063 Inch
Add to watchlist
Added to watchlist
PRIMAR® M42 — The versatile tool for small and medium workpieces
With PRIMAR® M42, WIKUS is also setting standards in the bimetal level 1 segment. The innovative production process guarantees good product properties and a good blade-life - and all of this with a versatile range of applications. The cost per cut can be reduced, thanks to the high degree of process reliability.
As an economical basic solution, PRIMAR® M42 is aimed at cost-conscious customers and is particularly suitable for use in workshops or smaller industrial plants. At the same time, the product offers a particularly favorable price-performance ratio.
An added bonus: PRIMAR® M42 is available in all common dimensions and tooth pitches, allowing the band saw blade to be used in all common band saws.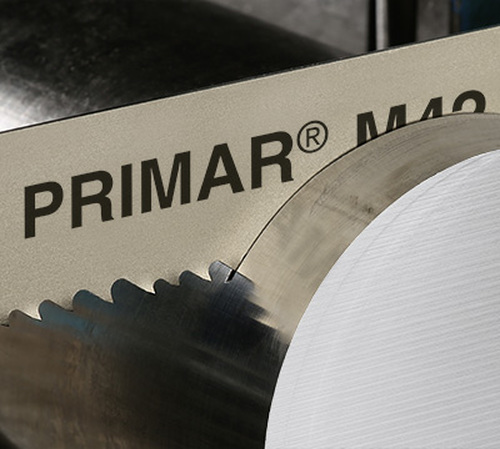 Applications
Workshop and lighter industrial applications
Small to medium cross-sections with diameters up to 900 mm
Small lot sizes
Solid materials and profiles
All metals up to 1000 N/mm² tensile strength

Advantages
Very good price-performance ratio in the level 1 segment
Less frequent blade changes due to a wide range of applications and thus less downtime and waiting times
Good blade-life thanks to new production procedure
Low noise generation due to variable tooth pitch
Good cutting surface due to precise set of the teeth

Features
M42 tooth edge with customised rake angle
Rake angle: positive (hook tooth)
Rake angle: 0° (standard tooth)
Constant or variable tooth pitch with standard setting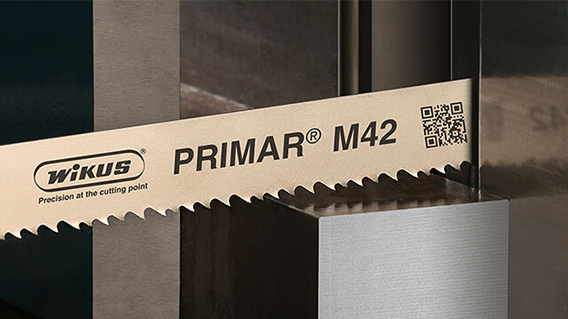 When scanning the QR code on the blade with the ParaMaster® App, the blade data are transmitted automatically.
PRIMAR® M42 awarded TOP band saw blade of the year by MM MaschinenMarkt
MM MaschinenMarkt magazine has awarded the top 15 products in the field of cutting technology. The PRIMAR® M42 bimetal band saw blade from WIKUS-Sägenfabrik has achieved 4th place, making it the best placed band saw blade. Learn more
Dimensions
Tooth pitch in ZpZ
Width x thickness
mm
Inch
6 x 0.65
1/4 x 0.025
6 x 0.90
1/4 x 0.035
10 x 0.90
3/8 x 0.035
13 x 0.50
1/2 x 0.020
13 x 0.65
1/2 x 0.025
20 x 0.90
3/4 x 0.035
27 x 0.90
1-1/16 x 0.035
34 x 1.10
1-3/8 x 0.042
41 x 1.30
1-5/8 x 0.050
54 x 1.30
2-1/8 x 0.050
54 x 1.60
2-1/8 x 0.063
67 x 1.60
2-5/8 x 0.063
variable
constant
10-14
8-12
6-10
5-8
4-6
3-4
2-3
1.4-2
1-1.4
18
14
6
4
3
2
S
S
K
S
K
K
S*
S*
S*
S*
S*
S*
K*
S
S
S
S
K
S
K**
K**
S
S
S
S
K
K
K
S
S
K**
K**
K**
S
S
S
K
K
K
K**
K
K
K
K
K
K
K
K
K
K
K
K
K

< 20

< 0.8

10-30

0.4-1.2

20-50

0.8-2

30-60

1.2-2.4

50-100

2-3.9

80-170

3.1-6.7

150-300

5.9-11.8

250-550

9.8-21.6

500-1000

19.7-39.4

< 10

< 0.4

< 15

< 0.6

50-80

2-3.1

80-120

3.1-4.7

120-200

4.7-7.9

200-400

7.9-15.7
S = Standard tooth
K = Hook tooth

*Optimised superfinish:
With immediate effect, this dimension is now also converted to the new inline production. As a result, the saw band gains a high quality in the form of a glossy, smooth surface. The fine band surface protects the band guides of the machine and increases the fatigue strength.

**Wide set for non-ferrous metals
Case-hardening steels, spring steels and ball-bearing steels
Rust-proof and acid-resistant steels (ferretic)
Nitrided steel, high-speed steel and tool steel
Construction, deep-drawn and machining steels
Carbon steels, and quenched and tempered steels
Cast iron
Aluminium / aluminium alloys
Non-ferrous metals
Any more questions?
The experts of our Technical Competence Center are happy to help you answer further technical questions connected to band selection and use.