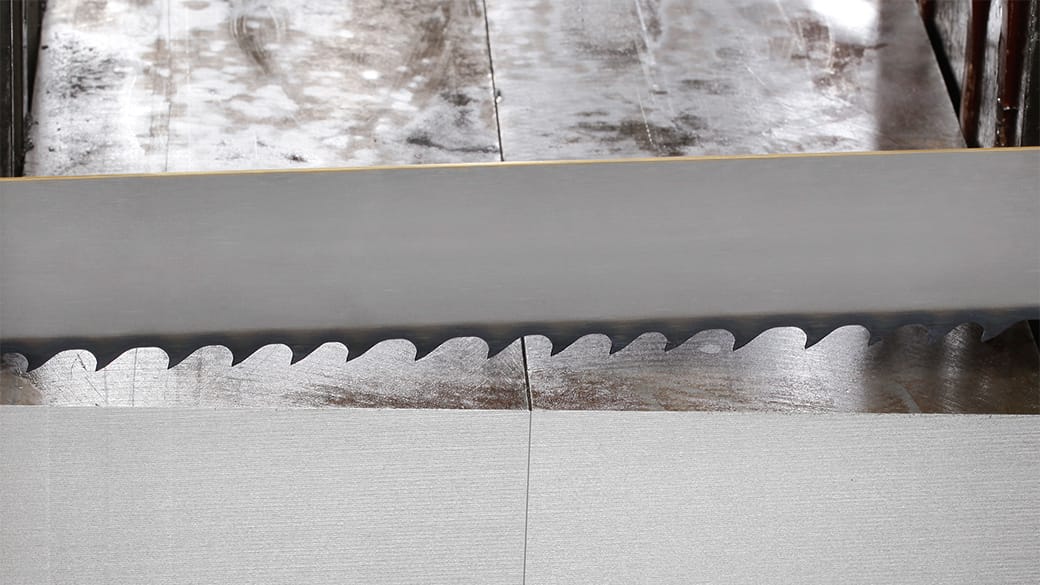 SKALAR® PREMIUM M42
The high-performer with extra blade-life
Product level 3

Hook tooth

Solid materials

Band width 27 x 0.9 -80 x 1.6mm

Band width 1-1/16 x 0.035 - 3-1/8 x 0.063 Inch
Add to watchlist
Added to watchlist

The high-performer with extra blade-life
The coated SKALAR® PREMIUM M42 band saw blade was specially developed by WIKUS for workpieces with large cross-sections. Compared to the uncoated band saw blade SKALAR® M42, it achieves even higher cutting rates with a significantly increased lifetime in continuous operation and impresses with its vibration-resistant and smooth running.
The reliable, precise operation of the SKALAR® PREMIUM M42 allows for multi-machine operation in large sawmills. Combined with the less frequent belt changes and the ability to precisely separate different material, this results in impressively high efficiency.

Application
High cutting rate, also continuous operation in large steel mills
All metals up to a tensile strength of 1400 N/mm2 can be used

Advantages
High productivity and output
Extended lifetime due to additional wear protection coating
Less frequent blade changes, higher machine availability
Low vibration and smooth running
Reliable and efficient multi-machine operation

Features
Tooth edge with special coating
Back edge coating for low friction
Optimum chip division due to special setting
Wide variety of materials to be machined

All SKALAR® band saw blades have a specially designed cutting geometry, optimal setting sequence and increased stability in the backing material.
The SKALAR® PREMIUM M42 band saw blade is additionally equipped with a special coating of the tooth edge and a band back edge coating for reducing friction. This wear protection layer allows for even higher cutting parameters with smooth and quiet running and a significantly longer lifetime.
Dimensions
Tooth pitch in ZpZ
Width x thickness
mm
Inch
27 x 0.90
1-1/16 x 0.035
34 x 1.10
1-3/8 x 0.042
41 x 1.30
1-5/8 x 0.050
54 x 1.30
2-1/8 x 0.050
54 x 1.60
2-1/8 x 0.063
67 x 1.60
2-5/8 x 0.063
80 x 1.60
3-1/8 x 0.063
2.5-3.4
1.8-2.5
1.4-1.8
1.2-1.6
1-1.4
0.7-1
K
K
K
K
K
K
K
K
K
K
K
K
K
K
K
K

100-220

3.9-8.7

180-350

7.1-13.8

300-600

11.8-23.6

400-700

15.7-27.6

500-1000

19.7-39.4

900-2000

35.4-78.7
Case-hardening steels, spring steels and ball-bearing steels
Rust-proof and acid-resistant steels (ferretic)
Nitrided steel, high-speed steel and tool steel
Construction, deep-drawn and machining steels
Carbon steels, and quenched and tempered steels
Cast iron
Aluminium / aluminium alloys
Non-ferrous metals
Any more questions?
The experts of our Technical Competence Center are happy to help you answer further technical questions connected to band selection and use.