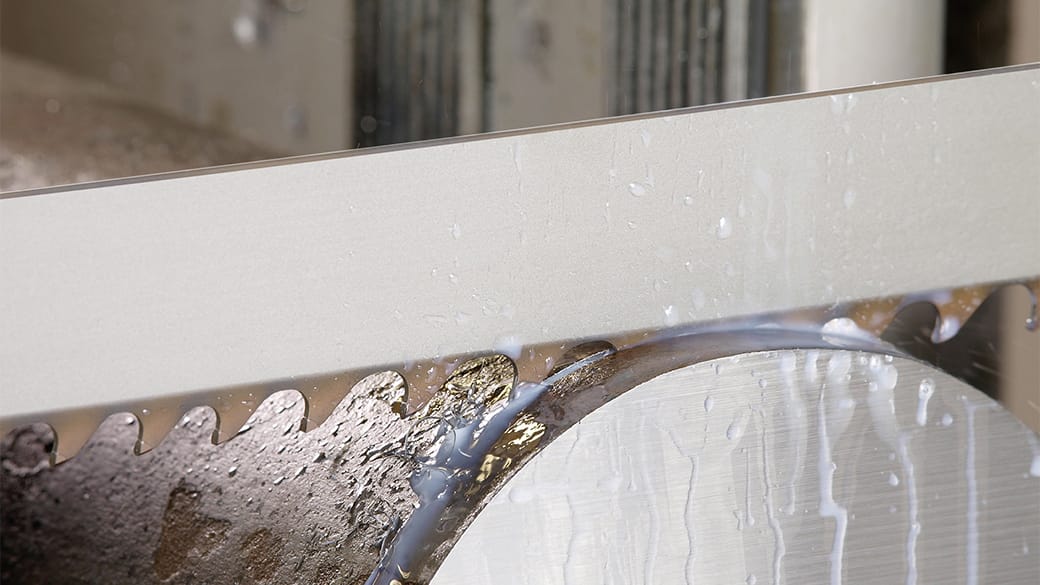 FUTURA® PREMIUM
Increased performance due to hard coating
Product level 3

Trapezoid tooth

Solid materials

Band width 34 x 1.1 - 80 x 1.6mm

Band width 1-3/8 x 0.042 - 3-1/8 x 0.063 Inch
Add to watchlist
Added to watchlist

FUTURA® PREMIUM — Increased performance due to hard coating
The aim of the technological development of FUTURA® PREMIUM was to enable a significant increase in the service life of the band saw blade by using a hard coating while maintaining the same high cutting parameters.
With FUTURA® PREMIUM, the performance spectrum in production could be increased again by approx. 20% compared to the FUTURA® product and at the same time, depending on the application, the blade-life could be extended by approx. 60 to 100%.
This improves productivity and blade-life. Both have a significant impact on the cost per cut and thus on the profitability of the sawing process in the plant.
Application
Solid materials of structural, case-hardened, tempering, and carbon steels
Industrial mass and series cutting

Advantages
Increased performance and improved tool life due to coated tooth edges
Extension of machine capacity in case of bottlenecks
Increase productivity and high blade-life
Reduction of noise emission
Low cutting forces, reduction of cutting time and straight cuts
Reliable even for unmanned shifts
Significant reduction in set-up time
Broad application spectrum achieved through fast and uninterrupted blade changes

Features
Special hard coating for steel machining
Additional back edge coating for lower friction
Building on the technological features of the FUTURA® product with its trapezoidal tooth geometry, FUTURA® PREMIUM has a Multi Layerhard coating applied to the tooth edges and back edge. As a result, the band saw blade impresses with enormous performance, a significant reduction in noise emissions and very good blade-life.
Dimensions
Tooth pitch in ZpZ
Width x thickness
mm
Inch
34 x 1.10
1-3/8 x 0.042
41 x 1.30
1-5/8 x 0.050
54 x 1.30
2-1/8 x 0.050
54 x 1.60
2-1/8 x 0.063
67 x 1.60
2-5/8 x 0.063
80 x 1.60
3-1/8 x 0.063
3-4
2-3
1.7-2
1.4-2
1.2-1.6
1-1.4
0.85-1.15
T
T
T
T
T
T
T
T
T
T
T
T
T
T
T
T
T
T
T
T
T
T

80-170

3.1-6.7

150-300

5.9-11.8

250-370

9.8-14.6

290-550

11.4-21.6

400-750

15.7-29.5

500-1000

19.7-39.4

700-1400

27.6-55.1
Case-hardening steels, spring steels and ball-bearing steels
Nitrided steel, high-speed steel and tool steel
Construction, deep-drawn and machining steels
Carbon steels, and quenched and tempered steels
Cast iron
Any more questions?
The experts of our Technical Competence Center are happy to help you answer further technical questions connected to band selection and use.